Thanks to the rousing success of the debut season, bagger racing fans will get to watch Harley and Indian duke it out in yet another arena—the racetrack. The MotoAmerica King of the Baggers Series expands to six exciting rounds this year (seven races total).
Last year, H-D factory rider Kyle Wyman rode his Screamin' Eagle Road Glide to the championship in the debut season of the AMA-sanctioned racing circuit. The first King of the Baggers Invitational race in 2020 was won by Tyler O'Hara aboard a superpowered Indian Challenger at Laguna Seca.
If you haven't yet checked out the King of the Baggers, you're in for a treat. Watching hi-po baggers rip around a road course is thrilling and nerve-wracking, and attending the races is a heckuva lot of fun. So get out to one of the races listed below and support your favorite factory team or privateer, including teams sponsored by Roland Sands Design, S&S Cycle, Saddlemen, and more.
Bagger racing is so popular it inspired Harley to release performance versions of its popular Street Glide and Road Glide models, outfitted with 117-inch Milwaukee Eight v-twins. You can read more about our exclusive ride aboard the brand-new Street Glide ST and Road Glide ST here.
2022 KOTB Schedule Expands to Six
The 2022 MotoAmerica King Of The Baggers Championship kicked off during Bike Week in Daytona Beach, Florida, with the baggers taking to the high banks of Daytona International Speedway for the first time, March 10-12. The first round went to 2020 KOTB Invitational champ Tyler O'Hara aboard his S&S-powered Indian Challenger, giving him an early lead in the 2022 series points race.
Now the series heads to Georgia and Road Atlanta in Braselton, April 22-24. The championship will then revisit Road America June 3-5, in Elkhart Lake, Wisconsin, a stone's throw from Harley-Davidson headquarters in Milwaukee.
Laguna Seca is where Kyle Wyman wrapped up the 2021 KOTB championship for Harley-Davidson, and the iconic track in Monterey, California, will play host to round four of the series, July 8-10.
The final two rounds of the 2022 series will take place at tracks that are new to this inspired and fun series of racing. Brainerd International Raceway in Brainerd, Minnesota, the home state of Indian Motorcycles, hosts KOTB on July 29-31, and New Jersey Motorsports Park in Millville, New Jersey finishes the series on September 9-11.
A Ratings & Social Success
The three-round 2021 MotoAmerica King Of The Baggers Series generated more than 19 million impressions and an engagement of 1.2 million on social media with the races delivering over 1.1 million views and 43,000 total hours of viewing time on YouTube.
"The popularity of last year's three-round King Of The Baggers Series was such that it left our fans, teams, sponsors, and racers wanting more," said MotoAmerica President Wayne Rainey. "So, we are giving them what they want: a six-race championship held at the three tracks that the Baggers competed on last year with an additional three rounds, including our first visit to Daytona International Speedway."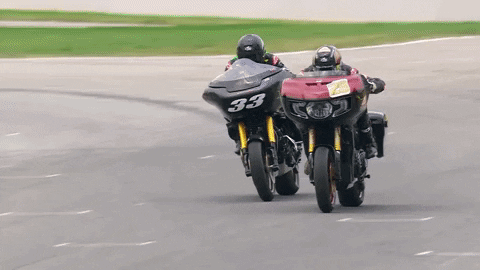 Last year's King Of The Baggers Championship came down to a fierce battle between Harley-Davidson's Wyman and Indian's O'Hara with Wyman winning the decisive final round at WeatherTech Raceway Laguna Seca to take home the title. Those two will again spearhead the efforts of the Harley-Davidson and Indian factories on their H-D Screamin' Eagle Road Glide and Mission Foods S&S Cycle Indian Challenger, respectively.
2022 MotoAmerica King Of The Baggers Schedule
March 10-12 Daytona International Raceway Daytona Beach, FL
April 22-24 Michelin Raceway Road Atlanta Braselton, GA
June 3-5 Road America Elkhart Lake, WI
July 8-10 WeatherTech Raceway Laguna Seca Monterey, CA
July 29-31 Brainerd International Raceway Brainerd, MN
September 9-11 New Jersey Motorsports Park Millville, NJ