Something major must've happened in Matthew O'Connor's life for him to go from riding a chromed-out Springer Softail 24/7 to a rusty 1982 Yamaha XJ650 Maxim on the weekends.
Sure, if that major thing is he became interested in riding a ratty bobber after being perpetually exposed to the ones his son Shane builds, including a 1988 Kawasaki 454 LTD and 1977 Harley Ironhead. To be more specific, Shane likes to blend the rat rod look with the slick bobber feel (i.e. a functional custom). He also likes his dad. Or, at least, we assume he does, because Shane wanted to build Dad's first rat bobber for Christmas and soon began bouncing some ideas off him.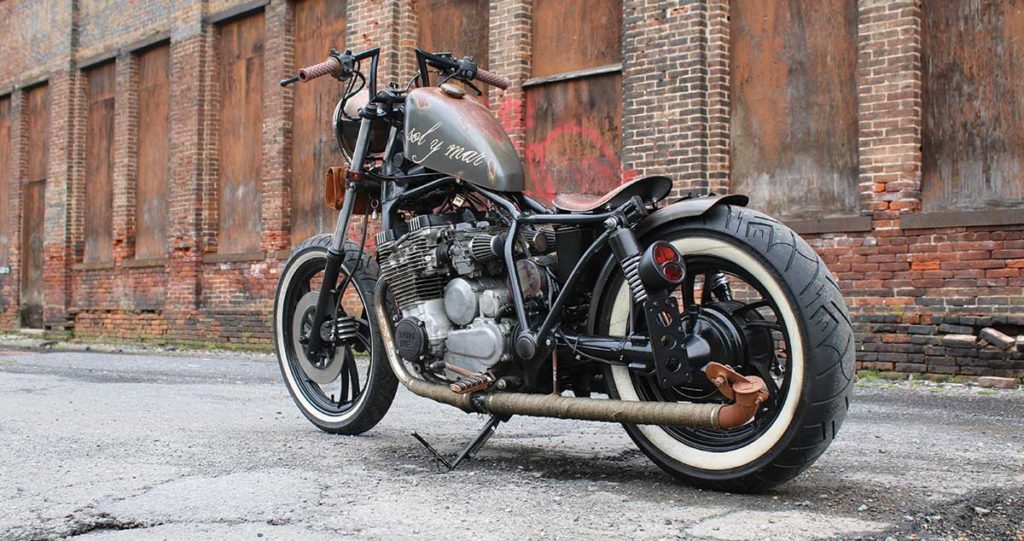 They agreed on pretty much everything, too, except Shane didn't want the tank to be cream-colored. Guess where Dad fell on that particular debate? Regardless, they eventually met somewhere in the middle (which we'll get to later). Since they agreed on everything (however begrudgingly), Shane needed a bike and soon found a nonfunctioning Maxim.
"I ended up buying the bike from a guy who installed pod filters for 'the look,' but couldn't figure out why it wouldn't run," recounts Shane. Fixing this was no problem (for Shane) because, unlike the previous owner, Shane is mechanically inclined—and paid to be, as a maintenance mechanic. "I knew right away the first thing I needed to do was install a jet kit in the carbs for the correct air-fuel ratio," he says.
That very day, Shane began cutting away at the frame. But his workspace, a one-car attached garage, made things difficult. Sure, 11' x 18' might be a little lacking in the space department, but when you add Shane's Ironhead and Kawi, his work bench, parts, and tools, including his trusty Eastwood 135 MIG 110 welder, this space becomes quite intimate. "It's been a tough place to work on the bike," says Shane. This has forced him to "get creative," especially during this build since his drill press had just broken right before he started. Creativity came in the form of a jig that Shane made from angle iron and a corded drill. "It helped me drill the holes much faster and more square," Shane comments, though, he admits, he would've preferred his press.
So, after cramming the Yamaha into his 11′ x 18′ garage (which was more like a 6′ x 9′ closet what with everything else in there), Shane also checked to make sure it worked before getting too far. Turns out, he had to do a whole lot more than just replace those pods, including an oil change, tune up, spark plug removal, compression test, cab cleaning, and jet installation.
Shane then began removing a lot of the clutter before "attempting" copper plating. "I started trying out different pieces," he says. "There were a lot of different metals on the bike and each metal takes to plating differently, so it was a lot of experimenting with chemical mixtures."
Next was the installation phase. But the act of actually installing parts was really just one step of a long and arduous process since most of the parts he would install had to be fabbed. "The options out there are expensive," Shane reveals. "And nobody really makes anything for this bike."
For example, he made some old pieces of stainless sheet metal into a battery box that he installed under the seat by tapping holes into the frame. And mandrel bends now make up the pipes, which have some tractor exhaust flappers on the ends.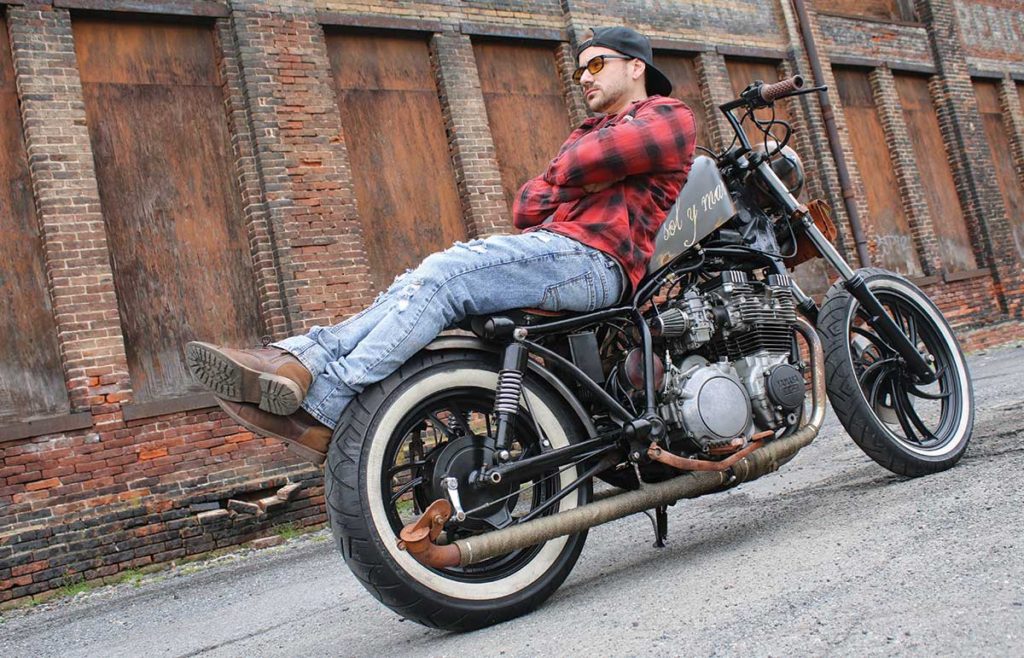 The rear fender, while a fender, came from a trailer, not a motorcycle. Shane mounted this onto brackets which he welded to the swingarm to obtain the closest tire clearance possible, which he did, but Shane still cut the fender. "I wanted it to look like it was made to fit the rear tire size," he reveals.
There were instances, though scarce, when Shane bought universal parts, but they normally required modification. For a seat he purchased, Shane fabbed a bracket out of flat stock into which he tapped holes and drilled (using his makeshift jig). To the bracket, he welded a hinge. "That way, the seat could lift up and expose the battery," he explains.
Shane was originally going to keep (and not modify) the tank, but then he decided to try out his 2-gallon Sportster tank "just for the heck of it."
And, heck! It looked good. "It was a no-brainer," he says. "I immediately knew that was the only option. It had to be a Sportster tank." Just not that one. He ordered a bare metal model, which he now refers to as the "electrical tank." This intriguing, but apt name, came after he welded some pipe to the caps to act as the wiring harness. "I cut a hole in the top for the harness to fit in and made a cover to bolt to that," he says. To get that "cool heat look," he used a torch.
But the harness isn't what makes the tank. It's the words sol y mar, which mean sun and sea. "Those words were on a sign I remember being at my grandparents' house as a kid," he explains. "My dad grew up there at the beach and loves the ocean, so I wanted to add a touch of something he loved to his bike."
He got those crucial words on there by placing a locally made vinyl stencil negative against the surface. Then he used a rattle can to spray the paint. And the color he chose was cream (you know, what Shane's dad wanted the whole tank to be).
The bike didn't rust naturally. Instead of leaving the bike out in an open field where it could be exposed to the elements, Shane sanded some of the paint down to the bare metal and then applied his secret formula, which, seeing as he shared it, isn't so secret any more: water, peroxide, and vinegar. For the parts that can't rust, he mixed some brown textured paint and cinnamon. Yes, delicious cinnamon. "That's a trick I got from an old builder awhile back," he explains. "It's hard to tell the rust isn't authentic."
During all this, Shane's father watched as the bike "came to life" and eventually got it as an early Christmas present. His only "change" was adding a leather bag.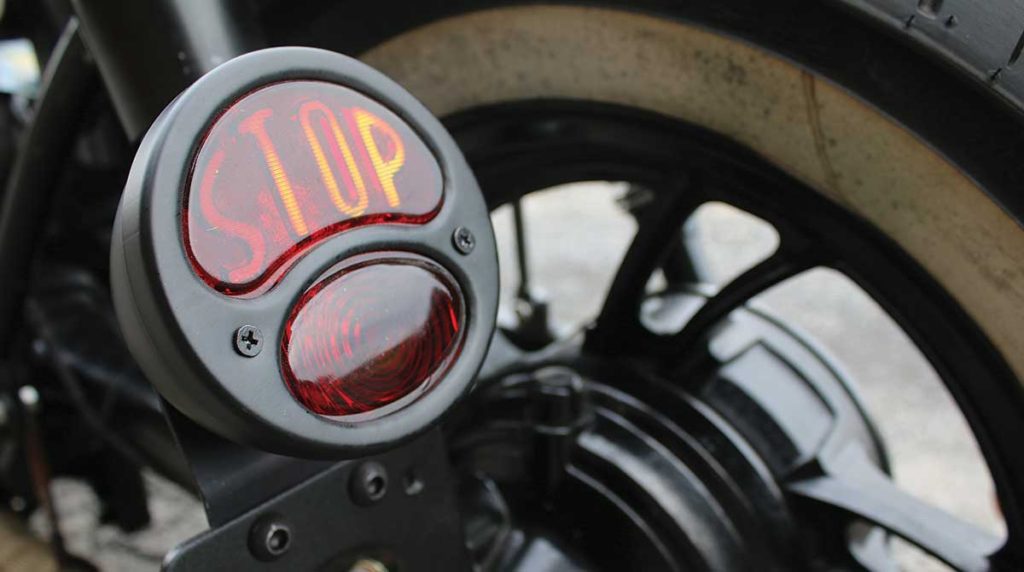 Though Shane's dad still uses the chromed-out Softail as his main commute to and from work every day, the Sol y Mar brat bike serves as his ride to "bounce around" on during the weekends. "My dad says that his Softail is like a new Cadillac, like you're floating on a cloud," Shane says. "And the Yamaha, he says, is like a 1960s truck that's more rough on the ride."
Maybe Shane should add "y caminos en mal estado" to the tank…in cream-colored lettering, of course. RC